Buy and Sell in and around Rhayader Powered by
Patterdale x sheepdog puppies
in Llanidloes, Powys
Advertised by EmmaWilliams, a Preloved member since November 2011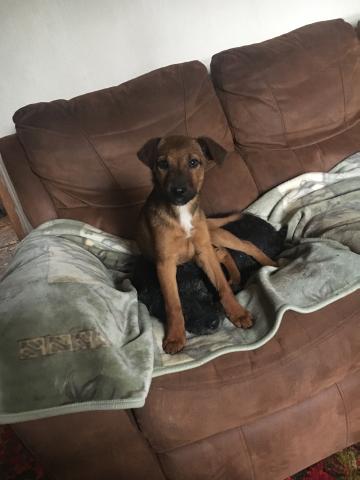 Advert

Details
Item

Price

£120

Breed

Patterdale cross kelpie sheepdog

Sex

Mixed Litter

Current Age

4 months

Ready to Leave

Now

Can be Viewed With

Mother and Father

Kennel Club Registered

No

Microchipped

Yes

Neutered

No

Vaccinations

No

Licensed breeder

No

Country of origin

United Kingdom

Country of residence

United Kingdom
Advert

Description

1 dog left (tan with white chest). Mum is a patterdale terrier and dad is a kelpie sheepdog. Both mum and dad are available to be seen. Mum and dad have great temperament.

The puppies are well handled, loving and very playful.

The puppies would make lovely pets for those who love walking or running in the outdoors. We believe they will grow to a medium size dog.

More photos available on request.